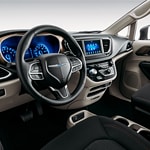 Performance is one of those factors you should not overlook when buying a car. Sierra Motors Inc ensures that we bring you the best deals and options right where you are. This time, the Chrysler Voyager caught our attention with its outstanding performance features.
The vehicle is a front-wheel drive with nine-speed automatic transmission. Its engine is a 3.6L V6 that yields a horsepower of 287, which is hugely competitive against its opponents. The voyager gets an average of 23 mpg against its competitors 20 and 21.
Another pro of getting the Chrysler Voyager is its excellent towing power of up to 3600 lbs. This minivan has a seating capacity of 7, which is perfect for families living in Ottawa, IL. The spacious interior also enables carriage of cargo and comfortable seating at the same time. The safety features included in the vehicle work best to guarantee your safety in the vehicle. The entertainment center makes it certain that none is ever bored during the ride.