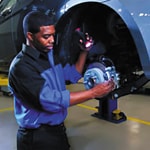 While caring for your Chrysler involves many aspects, premium vehicle maintenance always begins with excellent tires. At Sierra Motors Inc, we want all of our customers to know how to best care for their tires and wheels. The Mopar Vehicle Protection Road Hazard Tire and Wheel Coverage program can help you do just that.
From the hassle of dealing with Ottawa, IL tow truck drivers to the expense of replacing the tire, flat tires are inconvenient at best. Fortunately, the Mopar program covers the cost of repairing or replacing all four tires on your Chrysler. It even provides flat-fee towing services.
Of course, getting an ailing tire help as soon as possible will help you minimize costs. This helpful plan also covers the cost of replacing your tire pressure sensor gauges so you can maximize your warning time. Get total tire maintenance with this program.