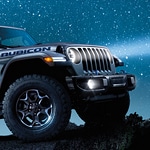 The Jeep Wrangler attracts attention anywhere it goes in Ottawa. This rugged vehicle is ready to do anything and go pretty much anywhere.
There are a few different engines that we offer at Sierra Motors Inc. All of them come with the same impressive towing capacity, which is 3,500 pounds. With this kind of capability, you can have flexibility in terms of bringing your gear with you. You can also get a new Wrangler set up with a roof rack so that some gear can be carried on top. There are many ways to customize a roof rack according to your needs. Whether you're bringing skis, a bike, or a kayak with you, the Jeep will be up for the task.
If your adventures take you into tough terrain, the Wrangler can handle it. It can ford streams and creeks, and it has excellent off-roading abilities. Plus, it has high clearance and a tough suspension.