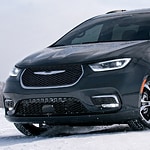 The 2023 Chrysler Pacifica is a luxurious minivan that offers a spacious and comfortable interior for up to eight passengers. Featuring a modern design, the Pacifica offers a variety of interior features that make it one of the most desirable vehicles in its class.
The interior of the 2023 Chrysler Pacifica is designed to provide maximum comfort for passengers. The cabin features soft-touch materials and high-quality leather upholstery, as well as heated and ventilated front seats. The interior also features a dual-pane sunroof, a power-adjustable driver's seat, and an 8.4-inch touchscreen infotainment system with Apple CarPlay and Android Auto. Some trims may offer a rear entertainment system as well for passengers in the second and third row.
In addition to its luxurious interior, the 2023 Chrysler Pacifica also offers a variety of advanced safety features. It comes standard with a rearview camera, blind spot monitoring, and rear cross-traffic alert.